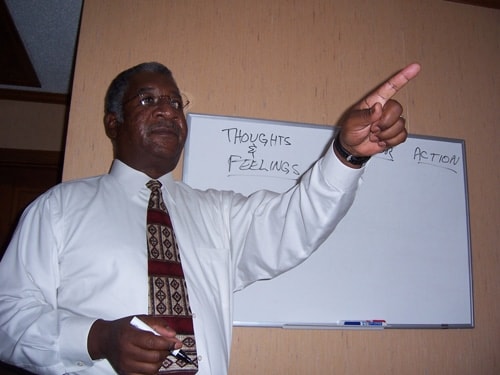 Frequently Asked Questions
We work with people who are success oriented. This may be at all levels of an organization in technology, insurance, finance, energy, legal, and government sectors.
Typically, they are corporate presidents; chief executives or leaders; managers of departments, products, or projects; or individual contributors such as consultants, trainers, and emerging leaders.
You have valued employees who have rough edges.
You want to find and eliminate performance blocks in your organization.
You need an outsider who is not influenced by history of the organization and is willing to talk straight to sacred cows.
You want to attract and retain the top talent your organization needs.
You want to promote diversity awareness and understanding to key performers.
Typically, I meet with senior leaders to understand the issues. I conduct an organizational assessment that includes conversations with a cross-section of the organization to get a 360 degree view of the issues. Emotional Intelligence, Mindfulness, and theoretical concepts are used to enhance learning. I offer a plan of action to the senior leaders and a decision is reached about next steps.
Do you travel to our location? Is it extra? Can you make your own travel plans?
We will travel to the client's location. The cost of travel is billed to the client. We try to keep costs down to insure travel is not an issue when hiring us. Yes, we are happy to handle all travel arrangements.
Are you a Ritz person or a local motel person?
Local motels meet the need. If we can get a good night's sleep, we are in good spirits.
Will you send me a formal proposal, including your fee?
The initial consultation is free. After the organization assessment, a proposal is presented that includes the course of action, number of consultants, and fees.
Do you charge by the person?
No. I have a fee that includes all estimated participants, handouts, and activity equipment.
Every situation is unique and it would be unfair to place a dollar figure here. We'll be glad to discuss your hopes and needs and come up with a fair plan for everyone.
Do you create your own programs?
Yes. While some of our basic concepts are available elsewhere, we bring energy, insight, fun, and create a no-guilt learning atmosphere.
Wallace Success International is based in North Myrtle Beach, SC. Our clients are located throughout the United States, Caribbean Islands, and Canada.
Have something in mind? Give us a chance to tell you how we can help.
How much lead time do you need for a program?
Sometimes a client will contact us 5 months in advance, wondering if it's too late. Others have come in at the last minute and asked for a team-building exercise. Please contact us and let us know your timetable. We'll let you know what we can do to help and how quickly.
How are your training and team-building events unique?
Wallace Success International offers versions of team building events you may find elsewhere (personality inventories, survivor simulations, etc.) Three main components are stressed.
Theme: The theme of an activity or exercise fits the overall goal of the program.
Theory: Each activity is supported by research and concepts that underpin learning goals.
Discussion: Each participant has an opportunity to express/question how the learning can be applied in the workplace.
What does a typical team building day include?
8:00 am – 8:45 am
Review of purpose and agenda. Creative introductions
8:45 am – 9:45 am
Interactive activities where participants disclose their interests and desired outcomes and get comfortable with others.
9:45 am – 9:55 am
Break
9:55 am – 12:00 pm
Interactive group dynamics activity. Participants discuss their experience and understand the distinction between group process and group maintenance.
12:00 pm – 1:00 pm
Lunch
1:00 pm – 2:30 pm
Participants use a video, personal experience, and discussion to explore the dynamics of diversity.
2:30 pm – 3:30 pm
Participants examine team conflict and its impact. Causes and resolution methods are reviewed.
3:30 pm – 3:45 pm
Break
3:45 pm – 5:00 pm
Action Steps and ways to maintain the learning.
This is a typical day. Every organization is unique and educational sessions are designed to meet the client's specific needs.